Shooting on location is fun and can be a challenge, but working in a crowded tourist attraction like Disneyland is an experience all its own.
I will usually try to scout out my locations so I can previsualize the shoot but with this being Disneyland I wasn't able to scout out the location. Luckily Roxanne and Joril have season passes and love going to Disneyland so they had already scouted out the spots that they wanted to use during their session. I had looked online to get a sense of what to expect considering it has been a very long time since I've been to Disneyland, and last time I went I wasn't really thinking of it as a place for an engagement photo session. Looking online helped me prepare for the shoot by giving me an Idea of what situations to expect.
One shot that I wanted was one inside the buildings to make use of their creative backgrounds and lighting. I thought that if I use flash it would bounce all over the place, light up the entire room and be annoying for other visitors. I decided to use a small handheld video light so that I can have better control of the light and isolate the couple. My brother held the small video light just out of frame and made a spot light on Roxanne and Joril.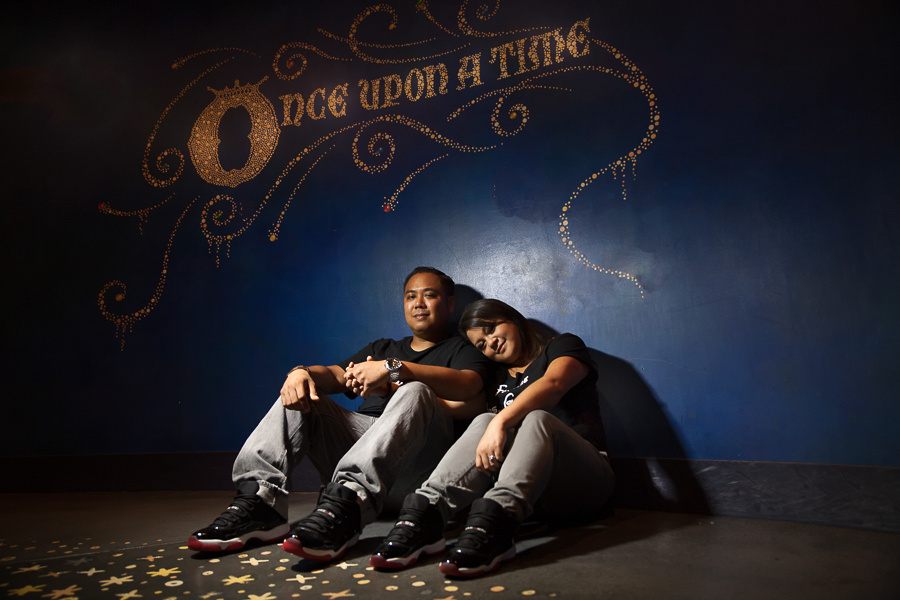 20130713-Generosa Disneyland - 0324-Rex Mananquil-1
And here is the obligatory castle shot:
20130713-Generosa Disneyland - 0582
We took this shot on the side bridge so that we wouldn't have so much foot traffic right in front of the castle. This shot was a happy little accident. As I was trying to pose the two, Joril backed up to let some people pass over the bridge and I loved the composition of the two of them just standing and looking at the castle. Check out the rest of the Disneyland Photo Session